Atlantic Yacht Sales
4425 Hwy 3
Chester, Nova Scotia, CA, B0J 1J0
Tel:902-593-1280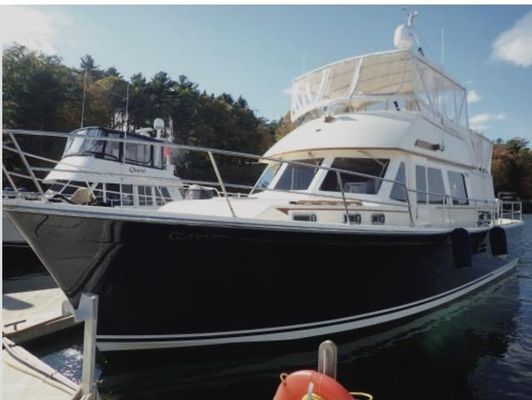 1996 Sabreline 43
Halifax, Nova Scotia, Canada
Please watch the youtube video in the link below: (Please note once the shrink wrap is offer she will be cleaned and a new video will be taken)
https://www.youtube.com/watch?v=AHq-5491E8I
Rare vessel with loads of upgrades over the years. You do not want to miss your opportunity to purchase this Sabreline 43. Please see the descriptions for more information. 
Specifications
Length Overall
53 ft / 16.15 m
Length Of Deck
43'6 ft / 13.26 m
Total Engine Power
840 hp
Displacement
18,597.29 kg
Engine 1 Specifications
Engine Location:
Center Port
Engine 2 Specifications
Engine Location:
Center Starboard
Dimensions
Vessel Name: Florianna
Builder: Sabre Yachts
Model: Sabreline 43
Hull Shape: Modified Vee-hull Semi-Displacement
LOA: 43'
Beam: 15'
Depth: 4' 3"
Mast height, off of the water: 23'
Additional
-       10' Zodiac hard bottom yacht tender with accessories
-       8 HP Yamaha OB
-       6 folding stools
-       6 folding deck chairs
-       1 teak folding 18" X 18" cocktail table
-       2 forward custom sundeck snap-down cushions with integrated pillows for sunbathing or lounging
-       Set of pots and pans
-       Set of nautical dishes for 8 guests
-       Set of cutlery for 8 guests
-       Microwave (2017)
-       Life Jackets
-       Aft cabin set of teak stairs for access to the aft companion way to the aft deck, from the aft cabin
-       2 life rings, one on the rail and one stored in the aft lazarette
-       1 life sling with 50' of rope
-       1 BBQ with 3 small propane cylinders
-       2 mats in the galley and helm areas, and one in the main salon
-       50' marine grade 110 volt AC shore-power with cord and a 25' extension cord. An electric cable master system is installed for discharging and winding in, the 50' cord, into the starboard side of the aft lazarette
-       1 spare propeller is stored beneath forward cabin floor, next to the bow thruster tunnel
-       4 fully charged fire extinguishers are located in the forward and aft cabins in the main salon, and in the engine room. The engine room fire extinguisher is a "Fireboy" type used only in engine rooms with manual shut off switch, at lower helm station. (Inspected Spring 2021)
-       Semi-custom teak stepped, folding boarding-ladder
-       Semi-custom, dockside, 5 step moveable storage locker with stainless steel rail
-       6-person life raft
-       Current DOT flare package (updated Spring 2022)
-       Two high-end headsets for captain and first mate communication when docking and undocking the vessel
-       Suction cup system to hold Ipad to a flat surface (window) at helm station (updated with Ipad stand)
-       An awl gripped boom, with gooseneck fittings with securing lines and cleats
-       Custom canvas covers for flybridge instruments and custom window covers, for the main salon windows and windshield, used to keep the sun out of the main salon, or for privacy in order, to compliment the blinds and curtains
-       Custom acrylic / wood covers used for the port and starboard engine room air vents in order to keep out the elements from the engine room, during the winter months.
-       Custom blinds and curtains have been designed and installed for all the side portholes and windows on the yacht.
-       A large 1 ½ thick custom hardwood cutting board was designed and built to cover the propane stove top, when it's not in use, as well as corion sink covers to increase counter-space when serving guests and preparing food.
-       There is a Rogue Wave wifi booster installed on the mast
-       Under the starboard settee are located 2 drawers full of spare electrical supplies
-       There are 2X 14' foot telescoping boat hooks, for picking up mooring lines
-       There are 2 large rectangular buckets and boat brushes in the forward starboard bow locker
-       There is a set of jack stands with adjustable pads, for use, when the yacht is stored on the hard
-       A hand-held Garmin GPS plotter also comes with the vessel.
Electronic / Electrical Features
-       4 Raymarine plotters 2 x E120's and x E80's, two at flybridge and two at lower helm station
-       1 Garmin 10" plotter with log, speed and trip-planner are located at flybridge helm station. Both digital and conventional compasses are incorporated into the Garmin unit, as well.
-       Wind-speed, boat speed and depth monitors are located at both upper and lower helm stations
-       Individual stereo units with speakers, each with separate systems, and CD players are located in the main salon and flybridge
-       Two flat screen TVs are present on the vessel. A 32" TV in the main salon and a 14" TV in the aft cabin.
-       GPS antenna
-       AIS antenna
-       Two VHF antennas
-       A satellite dome antenna
-       A Robertson autopilot on flybridge
-       The ship's speed over the ground is displayed on the Raymarine plotters and on the Garmin plotter, via satellite receiver
-       Rudder-angle indicators are located at both helm stations
-       Bow and stern thruster controls are located at both helm stations, as well as on the remote hand-held unit, which can activate the thrusters individually or together from anywhere on the boat, even from the dock.
-       A Maretron fuel-management system, with monitor/read out unit, located at the lower helm station
-       I-Com 604 VHF with command mic with DSC calling as well as, auto foghorn and loud hailer capabilities, is present at the lower helm station
-       Raymarine VHF radio at helm station
-       Ritchie 5" compass is located at upper helm station directly forward of the steering wheel
-       Radar display with plotter overlay function is available at both upper and lower helm stations
-       AIS system
-       Underwater Blue or white LED lights are fastened to the upper sides of the trimtabs
-       LED spreader lights
-       Running lights, streaming lights and port and starboard lights, 360 anchor light on masthead
-       Muir windlass at the bow with rope and chain, stainless steel brakes snubber and stainless-steel spinners
-       Aft lazarette storage compartment with fenders, life jackets, docking lines
-       Freedom lift Davit system is hydraulic and operated with remote key fob it can lift approximately 900 lbs. Aluminum arms can be easily moved.
-       Windshield wipers
Inside Equipment
-       Two electric Vacuflush freshwater toilets with macerators, holding tanks and overboard discharge as well as air blowers forward and aft
-       Two inside showers are located forward and aft as well as an outside aft fresh water shower.
-       Four sinks with 3 new faucets, are located in the forward, and aft heads (bathrooms), as well as a rotating faucet in the galley. The galley faucet has a extendable hand-held water sprayer incorporated in the rotating faucet, serving two stainless-steel sinks, one large and one small sink.
-       One stainless steel freezer with large pull-out drawer is located under the lower double helm seat station on the starboard side of the vessel.
-       Two stainless steel refrigerators (over and under) with large pull-out drawers and interior lights, are located under the bar and corion counter top on the portside.
-       One ice-maker / freezer is located under the lower double helm seat station
-       A seaward  3 burner stove with oven, and built in safety switches, is present in the galley, supplied by two 20 lbs propane tanks,  secured above the galley, on the flybridge deck, in the portside forward locker, just ahead of the double flybridge navigators bench seat.
-       LED multicoloured indirect strip (mood) lighting was installed (2016) in the aft cabin, forward cabin, bunk-room, main salon, under the bar and the heads.
-       Overhead ceiling mounted flat screen TV bracket system and flat screen TV with a teak ceiling door-cover, in order to conceal the whole system, including the TV, when entertaining guests, so it is above head level, (6'8") of most guests.
-       18" teak steering wheel with tilt wheel capability for helmsperson comfort, as well as, to accommodate opening of the large, custom built helmsperson's step/platform
-       Large folding Teak step/platform with SS fittings, and lock, for improved/increased (30 degree) visibility, of kayakers and canoers and swimmers, who might otherwise be out of your viewplane, when they are passing in front of the vessel, especially at twilight and darkness, or in fog
-       Twin lower helm seat, with removable double cushions and backrest which, when removed, exposes a (22"×36") nice-sized arborite bar facility, with the convenience of having the ice- maker under the bar
Engine Room Equipment
-       Sine-Wave high-end battery charger (installed in 2017) controls both AC and DC Power throughout the vessel, including lights, electric heat, batteries, inverter, air conditioning, furnace, hot-water-heater, T.V's, refrigeration (i.e. freezer, fridges and ice-maker) water- pressure and bilge pumps, etc.
-       Three electric bilge-pumps located fwd, engine room, and aft can be operated automatically, or, manually with over-ride switches, at lower helm station
-       Five heavy-duty AGM sealed batteries were installed in Aug.2017
-       20 gallon Raritan hot water heater, was installed in 2017
-       Two new Racor double-fuel-filter systems, were installed in 2016, which have instant switch-over capabilities, from the old filters to the new filters, while under way, or, at anchor
-       Wabasto diesel-fired furnace supplying heat to al 3 cabins, main salon, and bathroom tile floors was installed in 2015
-       There are ample numbers of AC outlets, located throughout the yacht, at the flybridge at the two helm stations, in the engine room, as well as, in the bathrooms (heads)
-       A Cruisair reverse-cycle air conditioning system is present. The A/C is controlled by 3 compressors located in the fwd, aft, and in the main salon. The system supplies each of the cabins and main salon (independently or in unison) with cool and/orw a r m air with independent controls in each cabin
-       In the lower compartments (bilge, engine room, lazeratte) within the vessel, are where the fuel and water tanks are accommodated
- Fresh water (domestic water) - 250 gals (1,000 litres) 20 gals (80 litres)
- Fresh water (potable/drinking water) - 20 gals (80 litres)
- Hot water tank - Fuel tanks (2):
-       Fwd tank - 200 gals (800litres)
-       Aft tank - 325 gals (1,300 litres)
-       Propulsion of the vessels is via twin port and starboard, Caterpillar engines. Each engine has the following specs:
Engine
-       Engine brands: Caterpillar - 3126
-       Model #'s: 3126
-       Types: Inboard
-       Fuel type: Diesel
-       Engine Hours: 2000 per engine
-       Power: 420 HP for a total of 840 HP
-       Speed with both engines operating and synchronized
-       Minimum: 4 knots @ 600 RPM
-       Cruising: 10 knots @ 1200 RPM
-       Maximum: 18 knots @ 2600 RPM
 Generator
-       Brand: Westerbeke
-       Type: 3 cylinder
-       Power: 8 KW
-       Hours: 2000 hours
-       Fuel: Diesel
-       Burn rate: 1 litre / hour
Outside Equipment / Features
-       Dinghy cleats incorporated into outer edge of swim platform
-       SS folding teak-stepped SS swim ladder on port side of swim platform
-       Synthetic teak deck were installed in 2015 with non-skid surface on all lower walking-decks, as well as, on swim platform
-       New 40" x 30" flvbridge cockpit teak dining table with a removable 13" extension and integrated compass rose, to accommodate 6-8 guests for cocktails or dining el fresco
-       1 ¼ inch stainless steel railings, throughout the vessel, with 3 gates and a drop-down 2 step staircase to access the Cablemaster toggle switch, swim platform and freedom lift dinghy davits 250feet of 3/8" chain, attached to a45lb CQR anchor, with spinner and S locking system
-       250 feet of nylon rode and 30 feet of 3/8"chain, attached to a Danforth 45lb anchor, withSS spinner and locking system
-       Twin anchor chocks/rollers at fwd end of bowsprit
-       Electric Muir windlass, with canvas cover, with a vertical capstan and double gypsy to accommodate both chain and rope rode (simultaneously) with winch brake and manual (winch- handle) over-ride capability. The winch was (recently) totally rebuilt (Aug. 2018), with new foot switches for operation at bow, as well as, at lower helm station, or, flybridge helm station
-       Custom flybridge Sunbrella (water-proof) "L" shaped settee, cushioned seating (2016) with matching integrated backrest, with under-the-seat storage, with access from above or/from aft sundecks area
-       White naugahide/vinyl twin bench seat, with arm rests, teak foot rests and twin drink holders, located on the port side of the flybridge
-       White naughahide helmsperson's seat, with arm rests, 360 degree rotation, fwd back movement, and adjustable foot rest, for total comfort, while steering the yacht, or, for dining, at the new teak flybridge dining table
-       Stamoid flybridge, full-enclosure, weather awning with 5 opening zippered windows and one seven foot aft-facing, zippered doorway, down 2s t e p s to the spacious a f t sundeck. (2015)
-       Stamoid aft sundeck, full enclosure, with 3 opening zippered windows and two "concealed" side doors. (designed, built and installed in 2017)
-       Stamoid is extremely resilient and more weather-proof than Sunbrella cloth fabric. The bonus is that gull-shit doesn't stick to it, and it washes off with rain, or a light brushing
Accommodations
-       Number of cabins: 3
-       Number of queen-sized berths: 2
-       Number of single berths: 4 (because fwd cabin queen converts to 2 singles)
-       Number of showers: 3 counting the aft outside, deck shower Number of heads/bathrooms: 2
-       Number of toilets: 2
-       Seating capacity:
-       10 in the main salon
-       8 on the aft sundeck area
-       8 on the flybridge area
-       10 on the fwd and aft decks
-       36 persons, dock-side (total)
-       20 persons sailing/cruising (on short cruises, in protected waters)
-       6 persons (on long voyages/cruises i.e. 200-300 nautical miles
Additional Items / Information
-       4 large liquor and/or wine storage cabinets, 3 of which are concealed, by doors, or hatches
-       4 teak hand-holds installed in the engine room (2017) to prevent falling on hot engines, and/or rotating pipes/shafts, especially while underway, or in choppy/rough seas. Grabrails or railings are present throughout the yacht, including the ceiling of the main salon, as well as, all of the stairways and comings, and bow sprit
-       Engine room is well lit by either CA and/or DC lighting
-       New "Norwegian blue-eyes" one-inch-thick, curved 42" high, 12" wide granite, bar-top, was installed (in2015) with glass storage under the bar, on the fwd corion counter-top on the aft side of the granite are 3 color coordinated high/low comfortable bar stools with knee room
-       LED Indirect lighting under bar was installed in 2017
-       New custom-built, overhead, teak cabinetry, with glass doors, and internal and under the cabinet LED lighting, was installed in 2016
-       New custom-built solid Burmese teak folding cocktail/dining table, to seat 4-6 guests during cocktail mode, or 8-10 guests, during dining mode, was built in Clearwater, Florida in 2016. This uniquely-designed table can be raised up or down 8"-10", and/or, moved back and forth (thwartships) 12" by removing, and relocating, a custom-made floor plug, so that the table can be opened up, part-way or all the way, to seat 8-10 guests for dining, when both table leaves are opened, and the table moved to the center of the main salon. Two custom-designed compass rose medallions have been incorporated into the top, so that they are visible and enjoyed, when the table leaves are closed, partially-closed, or wide open
-        (Oct.23, 2018) similarly-designed, high-gloss flybridge teak table. It also has incorporated into its upper surface a custom designed compass-rose medallion in its center. It is 30" wide and 40" long with a 13", custom-made extension, to seat 6-8 guests, up in the large 12'×12' flybridge area, with a full 360degreepanorama for elfrescodining, by candle-light, at twilight or, enjoying breakfast/brunch during a spectacular sunrise
-       The aft sundeck has been cleared of all obstructions recently (2017) Painted with non-skid awlgrip paint. It is 8'x10' in total area, with access by either one, or both sides, by 3 teak steps, as well as, from the main salon. It recently had a SS collapsible full-width frame with full stamoid enclosure, designed, built and installed (2017). It has removable S horizontal bars on either side (in the doorways), to prevent a person from accidentally falling off of the raised aft sundeck, onto the side decks, or falling against the coming's SS railings, or even possibly overboard. This is of special concern when this area is being used as an entertainment or socializing space, for sit- down cocktails and hors-d'oeuvres, before dinner, or even as a dancing area for 8-10 people, when the folding chairs and cocktail tables) are stowed away (in less than 5 minutes) under their allocated strapped-in storage area, behind, and under the flybridge overhanging deck. –
-       Courtesy lightshave recently (2017) been installed, on all of the internal steps leading from the main salon, both fwd and aft, as well as, to the steps, leading to the aft sundeck lounge, from the main salon
-       This yacht is blessed with amplestorage, under both of the main salon, and flybridge setees, under all of the beds and side shelves, as well as, above the bed in the fwd cabin
-       The fwd and aft cabins, each have lots of hanging locker space. Indeed, the fwd and aft cabins each have two-hanging, cedar-lined closets, with overhead lights, while the bunk room has one hanging, cedar-lined closet. There is also a computer desk and custom-made leather-covered chair in the bunkroom. Al cabins have pull-out drawers under the beds and 2-3 different lighting systems for reading, visibility, or mood creation
-       A designated 20 bottle spice rack, with additional storage for small items, is located beside the steps, adjacent to the galley, within arms reach
-       Two custom folding teak steps, with stops to hold them vertically, and SS non-skid plates, are located, just inside the main salon sliding doors, in order to facilitate easy and complete opening of the lower, large refrigerator drawer, on the port side, as well as, the large freezer drawer, on the std side
-       A choice of red, or white dimmable lights with rheostats (4) are located on the underside of the overhead gallery teak cupboard system (2016). These are very functional lights and are used for night vision, mood lighting, or to light up the beautiful curved granite bar top and corion counter-top areas, when entertaining, preparing food or laying out hot hors-d'oeuvres and chaffing dishes, for your guests
-       A galvanic isolator is installed to prolong the life of the zinck and aluminum anodes, in order to prevent corrosion on the vessel
-       Blue and gold pin striping has been applied to the cabin sides and hull, to accentuate the striking and esthetically-pleasing sheer lines of thehull and cabin (2017)
-       ½  round varnished teak "eye-brows" with matching arrowheads and tailfeathers have been installed along the sides of the fwd and aft coachrooves, as well as, along the main salon cabin, in order to streamline the look of these structures and to "visually", break-up the height of the cabin
-       Folding custom-zippered bug-screens have been incorporated into the hatchways of the main salon and the aft cabin
Disclaimer
The Company offers the details of this vessel in good faith but cannot guarantee or warrant the accuracy of this information nor warrant the condition of the vessel. A buyer should instruct his agents, or his surveyors, to investigate such details as the buyer desires validated. This vessel is offered subject to prior sale, price change, or withdrawal without notice.